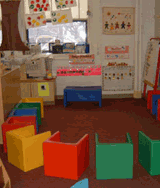 Location: 75 Central Street, Ashland, MA 01721

Our preschool classrooms:

The classrooms are spacious and include cubbies for each child where they can store their belongings.

Cubbies display family and individual pictures to promote their feelings of security and enhance their sense of belonging.

Each classroom is designed with specific interest or activity areas to include arts/crafts, easel, sensory area, small manipulatives and math area, pre-writing, science/discovery area, block building area, library and listening area, computer and dramatic play.

Outdoor Space:

Outdoor play time is an important part of our day. We plan and offer activities that develop and strengthen large muscle groups utilizing the field area and play structure.

The children are brought outdoors each day unless the weather is inclement or below 20 degrees. When we are unable to go outdoors, our large motor activities are replaced with appropriate games, movement and music activities in the Gym.

Building Security:

A camera-based security system for all persons entering the building

A fire safety system tied in directly to the Fire Dept

We meet or exceed all building regulations and safety codes.